Hands First Alcohol Free Foaming Hand Sanitiser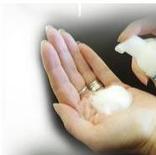 An Antibacterial, Alcohol-Free Instant Hand Sanitiser. It is a quick, efficient and easy way to sanitise your hands without the need for soap, water or towels. Simply apply one pump to your hands and rub together until dry (10 seconds).
Once you use Hands First,  you won't want to use anything else!
Laboratory proven to kill 99.99% of germs quickly
Contains NO alcohol
Does NOT sting
Fragrance-free
Non-flammable & non-toxic
Moisturising with aloe vera
Lasts up to five times as long as an alcohol-based gel
Unique metered pump foaming dispensers
The ingredients in Hands First are proven and safe
Australian Made and Owned
Good Hygiene Is In Your Hands ®
Contact us for a supplier near you or buy direct.
Order online or by phone.
PHONE: 08 8327 2220 or 0455 022 220  NOW FOR FAST SERVICE & DELIVERY