Hands First Proven Effective
Long term, frequent use of alcohol-based sanitisers can cause skin irritation. Hands First will not dry your skin.
Alcohol strips the skin of its protective natural oils, which increases its susceptibility to infection. Hands First is alcohol-free.
Alcohol-based hand sanitisers stop working the instant they dry. Hands First continues to remain active for up to four hours after application
Alcohol-based sanitisers have a harsh smell and can be sticky and slimy. Hands First is fragrance-free with no sticky feel.
Alcohol-based sanitisers sting little cuts on hands. Hands First will not sting.
Hands First lasts up to five times longer than alcohol-based gels1
Alcohol-based sanitisers can tarnish jewellery, stain fabrics and fade nail polish. Hands First will not.
1 – 50ml of Hands First will provide 100-120 applications. 60ml of Purell will provide 29-30 applications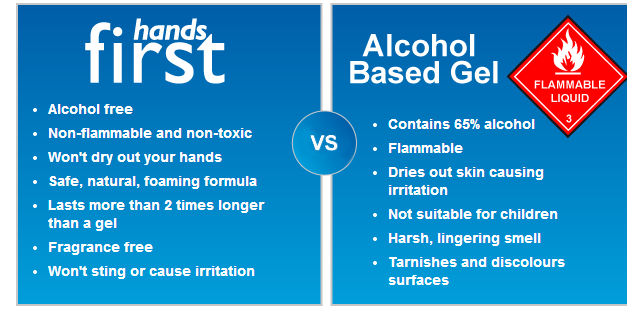 To The Top